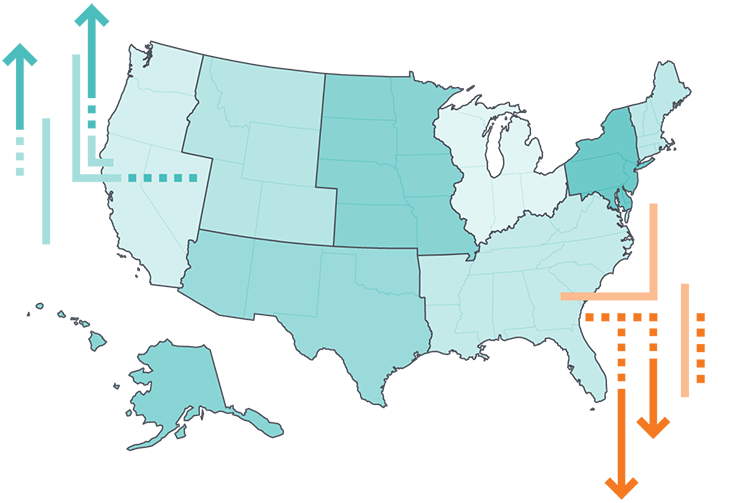 State Rankings
Hawaii, Massachusetts, Minnesota, Iowa, and Connecticut are the top-ranked states according to the 2020 Scorecard, which assesses all 50 states and the District of Columbia on more than 45 measures of access to health care, quality of care, service use and costs of care, health outcomes, and income-based health care disparities.
Which states moved up the most in the rankings between 2014 and 2018, and which states dropped?
The District of Columbia had the largest jump in rankings, up 13 spots. New York gained 10 spots in the rankings and New Jersey rose nine spots.
South Dakota fell 19 spots in the rankings, while Wyoming and Maine fell 12 and 17 spots, respectively.
---
What are the leading states by region?
Great Lakes
Wisconsin
Mid-Atlantic
New York
New England
Massachusetts
Plains
Minnesota
Rocky Mountain
Colorado
Southeast
Virginia
Southwest
New Mexico
West
Hawaii
---
Which states improved on the most indicators?
Florida, Kentucky, Louisiana, and Virginia each improved on 17 of 43 indicators we track over time, although Louisiana had a larger net gain, having gotten worse on fewer indicators (seven indicators) than Florida and Virginia (12 indicators). Five states (Arizona, Arkansas, Mississippi, Missouri, and West Virginia) each improved on 16 indicators.
Fourteen states got worse on more indicators than they improved on.